We believe that teens have a lot to provide to the bleeding disorders community and are a wealth of knowledge for the future. We work throughout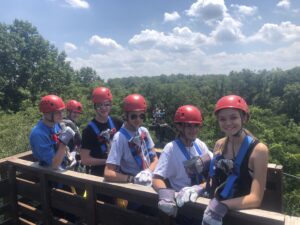 t the year to provide opportunities for teens to gather and build lasting bonds, while growing their knowledge of living with a bleeding disorder personally or within their families. Most of our large events will have a teen program tailored just for their needs.
The annual teen retreat is a favorite! 
"The Carolina Crew"
BDASC and Hemophilia of North Carolina annually provide a joint teen retreat for teen's ages 13-18 years. This event is open for anyone ages 13-18 who has either a bleeding disorder or a sister, brother, or parent with a bleeding disorder.  An educational component is included each year on topics related to independence, job and career preparation, advocacy training, and bleeding disorders education. Fun activities are also planned to engage teens and their friends from across both states. Come spend a weekend with friends – new & old! Share your interests, passion, and ideas about how you can make a difference for yourself and in our community. Our program will include engaging activities including learning self-advocacy, sharing your story, and how to adapt to many other life-skill challenges as you learn to transition into adulthood!