(Greenville, South Carolina) — On Thursday, August 16, and Friday, August 17, 2018, approximately 47 policy experts, government officials, medical professionals, and bleeding disorders advocates, met in Columbia, South Carolina, to address access to healthcare issues at a forum titled The South Carolina Challenge, coordinated by Hemophilia of South Carolina (HSC) and their Advocacy Coalition. On Thursday evening, the group assembled for dinner and an opening program, Why Healthcare Matters, which featured testimony by HSC community member Mr. Gene Wilson about living with severe hemophilia and an inhibitor, as well as an opening keynote address by Representative Leon Howard, chair of the Medical, Military, Public and Municipal Affairs Committee in the South Carolina House of Representatives, who shared a bit about his families personal experiences regarding challenges to accessing healthcare and roadblocks he sees within the healthcare system, as well as his vision of how government can work to ensure persons with chronic diseases can have better and more reliable access to healthcare.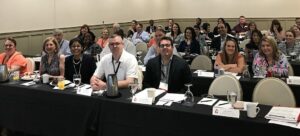 On Friday morning, Ms. Sue Martin, executive director of HSC and Advocacy Coalition member, welcomed the group and facilitated introductions. Assisting in facilitating the forum was Mr. Jeremy Williams, HSC policy and advocacy assistant, who is also a member of the HSC Advocacy Coalition. The program then kicked off with testimony by Mr. Shawn Sperry, vice president of HSC's board of directors and chair of its Advocacy Coalition, who is a ninth generation with severe hemophilia. Ms. Brendan Hayes, government relations specialist with the public policy team at the National Hemophilia Foundation (NHF), initiated the Bleeding Disorders 101: History of Bleeding Disorders; Our Past and Our Future portion of the program, which included a brief understanding of bleeding disorders, the evolution of clotting factor treatment, and other major medical developments relevant to hemophilia and similar disorders. This program also included testimony by HSC board members Ms. Cristal Day, who serves as vice chair of the HSC Advocacy Coalition, and Ms. Wendy Legrand, who is the current secretary of the Advocacy Coalition.
The remainder of the morning was spent on a program The Value of Hemophilia Treatment Centers (HTC), which explored the importance of the nationwide network of centers that provide comprehensive care to persons with bleeding disorders through continuous supervision of all medical and psychosocial aspects of a patient's health. The program began with a look at the sole HTC located in South Carolina, at Palmetto Health Richland Hospital in Columbia, through a presentation by Dr. Stephanie Ambrose, director of the HTC, and Ms. Robin Jones, the HTC's nurse coordinator. The session included testimony of the importance of patient access to treatment centers, funding support for staff, and access for the adult population by Ms. Martin and Ms. Connie Graham. Next, Dr. Paulette Bryant, director of the newly designated HTC at St. Jude Affiliate Clinic at Novant Hemby Children's Hospital in Charlotte, North Carolina, gave a talk on the processes involved, and obstacles overcome, in their development as a newly designated HTC. Dr. Bryant was joined by their HTC nurse coordinator, Ms. Elizabeth Lineberger. This portion of the program concluded with a presentation by Mr. Sean Singh, senior vice president of marketing and operations at the Hemophilia Alliance, an organization that advises, advocates for, and even negotiates on behalf of the 142 HTCs throughout the country. Mr. Singh emphasized the importance of the HTC model as an exemplary standard of bleeding disorders care.
The afternoon program began with Access to Healthcare Part 1: Medicaid, and featured talks by Mr. Nathan Shaefer, senior policy director at NHF, and Ms. Miriam Goldstein, associate director at the Hemophilia Federation of America (HFA), to give an overview of the current, national Medicaid landscape, including some of the common challenges faced by the bleeding disorders population who are also Medicaid beneficiaries, such as limits on access to preferred therapies; restraints on access to HTCs and comprehensive care; restrictions pertaining to prescriptions and ancillary services; and vast variations in coverage by managed care organizations from state to state. The program then featured a talk by Mr. Bryan Amick, deputy director of the Office of Health Programs at the South Carolina Department of Health and Human Services, who spoke about drug pricing issues in the state, incentivizing high quality care, policy solutions tailored to fit the competitive healthcare landscape, as well as an overview of the prospective solutions his office is seeking to provide better care for the more than 1 million Medicaid recipients in the state. Ms. Renita Johnson, HSC board member and member of the Advocacy Coalition, then provided testimony regarding her family's experiences with bleeding disorders and the South Carolina Medicaid program. The forum then featured an open discussion of the challenges with access to care and treatment services, led by the three main hospital networks in the state. Representing Children's Hospital of Greenville Health System was Dr. Leslie Gilbert, assistant professor of clinical pediatrics in the Pediatric Hematology-Oncology department; representing the Medical University of South Carolina was Dr. Shayla Bergmann, assistant professor and director of the Pediatric Hemophilia Clinic, and Dr. John Lazarchick, director of the Hematology and Hematopathology Fellowship Program; and representing the HTC at Palmetto Health Richland, was Dr. Ambrose and Ms. Jones. The Medicaid program concluded with a presentation by HSC's Ms. Martin on the prospect of implementing a model standard of care for Medicaid beneficiaries with bleeding disorders in South Carolina, focusing on access to HTCs; better monitoring, engagement, and support services; product availability and assay management; and timely delivery of services.
The concluding portion of the afternoon program, Access to Healthcare Part 2: Threats and Protections, turned to a discussion of the existing instabilities in private and public healthcare plans and treatments, as well as programs that seek to mitigate these threats for bleeding disorders patients. The program featured talks by Mr. Shaefer from NHF, and Ms. Goldstein from HFA, on existing threats and challenges, followed by Ms. Tammy McKenna, director of the Department of Children with Special Health Care Needs at the South Carolina Department of Health and Environmental Control, on the hemophilia assistance program that exists within her division. Mr. James Romano, director of government relations with Patient Services, Inc., then gave a talk on his organization's national premium assistance program. HSC's Ms. Martin gave an overview of the various manufacturers' patient assistance programs available to persons with bleeding disorders. Advocacy Coalition ambassador and HSC member Mr. Will Beaty, concluded the program with a testimony about the importance of such safety-net programs to the continuity of healthcare for people with chronic diseases.
The day concluded with a summary by NHF's Ms. Hayes of the goals and objectives laid out by the forum, and an open discussion of "next steps forward." Ms. Martin also gave some concluding remarks and warmly thanked the attendees for their time, commitments, and willingness to work with HSC and its Advocacy Coalition. The forum was a huge success and proved to be a useful conduit for bringing together the wide variety of expertise and experience from throughout the nation in order to share ideas and formulate solutions to the many challenges facing the South Carolina bleeding disorders community.
Attendance List
The South Carolina Challenge Forum
August 16 – 17, 2018
Hilton Columbia Center
Columbia, South Carolina
Ms. Courtney Alexander, Pediatric
Hematology/Oncology Clinical Pharmacist, Greenville Health System
Dr. Stephanie Ambrose, Medical Director,
HTC at Palmetto Health Richland
Mr. Bryan Amick, Deputy Director, Office
of Health Programs, South Carolina Department of Health & Human Services
Mr. Will Beaty, Member and Ambassador,
Hemophilia of South Carolina Advocacy Coalition
Mr. Keith Bish, Lead for U.S. Regional
Patient Advocacy, Shire
Dr. Shayla Bergmann, Assistant Professor
of Pediatric Hematology/Oncology, Medical University of South Carolina
Ms. Anna Bleasdale, Registered Nurse,
South Carolina Department of Health & Environmental Control
Ms. Diane Bolin, Nurse Consultant,
Children & Youth with Special Health Care Needs, South Carolina Department of Health & Environmental Control
Dr. James Bradford, Clinical and Medical
Affairs, South Carolina Department of Health & Human Services
Dr. Paulette Bryant, Medical Director, HTC
at St. Jude Affiliate Clinic at Novant Health Hemby
Ms. Martha Breitwieser, Member and
Ambassador, Hemophilia of South Carolina Advocacy Coalition
Ms. Shelley Crisp, Member, Hemophilia of
South Carolina Board of Directors
and Advocacy Coalition
Ms. Cristal Day, Vice Chair, Hemophilia of
South Carolina Advocacy Coalition, and Member, Hemophilia of South Carolina Board of Directors
Dr. Carley Howard Draddy, Vice Chair of
Pediatric Quality and Medical Staff Affairs, Greenville Health System
Ms. Ebone' Gadson, Program Manager,
Children & Youth with Special Health Care Needs, South Carolina Department of Health & Environmental Control
Dr. Leslie Gilbert, Assistant Professor of
Clinical Pediatrics, Greenville Health System
Ms. Miriam Goldstein, Associate Director of
Policy, Hemophilia Federation of
America, and Member, Hemophilia
of South Carolina Advocacy Coalition
Ms. Connie Graham, Ambassador,
Hemophilia of South Carolina Advocacy Coalition
Mr. Dwayne Graham, Ambassador,
Hemophilia of South Carolina Advocacy Coalition
Dr. George Haddad, Vice Chair of Pediatric
Clinical Services, Greenville Health System
Ms. Brendan Hayes, Government Relations
Specialist, National Hemophilia
Foundation, and Member, Hemophilia of South Carolina Advocacy Coalition
Rep. Leon Howard, Chair of the Medical,
Military, Public & Municipal Affairs Committee, South Carolina House of Representatives
Ms. Robin Jones, Nurse Coordinator, HTC
at Palmetto Health Richland
Ms. Renita Johnson, Member, Hemophilia
of South Carolina Board of Directors
and Advocacy Coalition
Dr. John Lazrchick, Professor of Pathology
and Laboratory Medicine, Medical University of South Carolina
Ms. Wendy Legrand, Secretary, Hemophilia
of South Carolina Advocacy Coalition, and Member, Hemophilia of South Carolina Board of Directors
Ms. Elizabeth Lineberger, Nurse
Coordinator, HTC at St. Jude Affiliate Clinic at Novant Health Hemby
Ms. Sue Martin, Executive Director,
Hemophilia of South Carolina, and
Member, Hemophilia of South Carolina Advocacy Coalition
Ms. Tammy McKenna, Division Director,
Children & Youth with Special Health Care Needs, South Carolina Department of Health & Environmental Control
Mr. Bryan Merrell, Government Customers
& Medicaid, Bayer
Ms. Shari Miles, Life, Accident & Health
Manager, Market & Consumer Services Division, South Carolina Department of Insurance
Mr. Toni Mitchell, Senior Manager of State
Government Affairs, CSL Behring
Dr. Tan Platt, Medical Director, South
Carolina Department of Health & Human Services
Mr. James Romano, Director of Government
Relations, Patient Services, Inc., and Member, Hemophilia of South Carolina Advocacy Coalition
Ms. Brenna Raines, Senior Manager of
Health Policy, North America & Global Health, Plasma Protein Therapeutics Association
Mr. Monty Robertson, Manager, Alliance for
a Healthier South Carolina
Mr. Nathan Shaefer, Senior Policy Director,
National Hemophilia Foundation
Mr. Sean Singh, Senior Vice President,
Hemophilia Alliance
Ms. Jennifer Sperry, Ambassador,
Hemophilia of South Carolina Advocacy Coalition
Mr. Shawn Sperry, Chair, Hemophilia of
South Carolina Advocacy Coalition, and Vice President, Hemophilia of South Carolina Board of Directors
Ms. Nikki Stafford, Administrator,
Greenville Health System
Mr. Fred Verde, Director of Government
Customers, Bayer
Mr. Mike Walden, President, Hemophilia of
South Carolina Board of Directors,
and Ambassador, Hemophilia of South Carolina Advocacy Coalition
Ms. Amanda Williams, Director, Division of
Coverage & Benefit Design, South Carolina Department of Health & Human Services
Mr. Jeremy Williams, Advocacy & Policy
Assistant, Hemophilia of South Carolina, and Member, Hemophilia of South Carolina Advocacy Coalition
Mr. Gene Wilson, Member, Hemophilia of
South Carolina
Ms. Karen Wilson, Member, Hemophilia of
South Carolina